Tournaments
Regular Webcam Tournaments
Please find current info in our facebook group.
3rd World Championship, July 2023
Will be held in Madrid Spain 14-16 July. Full informatin and booking on this link.
French national cup, November 2022
Was held in Paris 20 November.
2nd World Championship, July 2022
44 players from 8 countries. Held in Madrid Spain in july.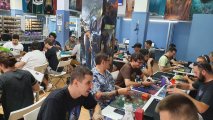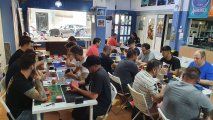 World Champ Carlos with the Youngest player Alvin
French national cup, December 2021
Was held in Paris on the 12 December 2021. Some announcement info here.
1st World Championship, July 2021
24 players. Held in Madrid in july. Final standings and deck photos.
First Tournament, December 2020